About Seni Popat
Personal Injury & Bankruptcy Lawyer Serving Queens
At the Law Office of Seni Popat, you will work directly with Seni Popat, the principal attorney at the firm. He has represented hundreds of injured clients, clients facing bankruptcy, and many other legal matters. During difficult times, Seni understands the impact these situations can have on your life, your family, and your well-being. He strives to bring stability to his clients while focusing on obtaining results in a quick and most effective manner. He is well-known and respected amongst his colleagues in the profession, including by many judges, and has earned the reputation of a being fierce litigator.
Seni has almost a decade of experience in fighting for his clients in the courtroom; he has argued before many judges, at settlement conferences, in State and Federal court hearings, at arbitrations, and before judges and jurors at trial. He has been selected by his colleagues for inclusion on the list of Super Lawyers—a status only a select few receive in the legal profession. He is admitted to practice law in New York and New Jersey, as well as the Federal Courts in Eastern and Southern District of New York.
Seni was raised in Queens, NY, attended Hofstra University undergraduate in Nassau County, NY, and obtained his Juris Doctor from Touro Law in Suffolk County, NY. He is as "local" as it gets and values his local clients. Seni understands the importance of tackling legal issues head-on and providing guidance, information, and direction when it's needed most. He always puts his clients and their best interests first.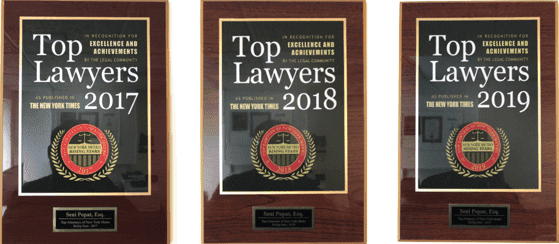 Call (718) 340-3385 or reach out online to request a free, no-obligation consultation with Seni Popat today.